JUVE EXPO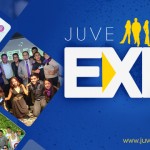 "JUVE EXPO" is an annual event where JUVE presents to the community our calendar and activities for the year. This is a space where we welcome new members and volunteers of our organization. At JUVE expo our community is invited to participate in each of our initiatives.
………………………………………………………………………………………………………………………………………………….
DOORS TO HIGHER EDUCATION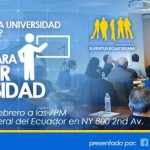 An informational seminar directed for people who need a guidance on how to go to college in the United States. This seminar has the purpose of covering all the key information for individuals to access the educational system, including the application process, financial aid and more. This is one of our most acclaimed and important seminars of the year as we provide the information necessary for community members to start their education in this country.
………………………………………………………………………………………………………………………………………………….
JUVE RETIRO
"
JUVE Retiro" is an event co-sponsored by the National Park Service's Program: Your Park! Your Health! and has the purpose of bringing members of the organization to a space where they can relax, re-boost energies and build new leadership and teamwork skills. JUVE Retiro will engage members of the organization in interactive, challenging and rewarding activities such as meditation, soccer games, kayaking and among others. JUVE Retiro also serves as a space to open a conversation amongst members on different ideas and goals. By being in an environment free of distractions, noise and traffic, JUVE members are able to share a collaborative, creative and purposed space.
…………………………………………………………………………………………………………………………………
PAST EVENTS:
LULAC Queens Council & Organizacion Juventud Ecuatoriana INVITAN A participar en la CONFERENCIA SOBRE La Nueva Política del Presidente Obama para los Estudiantes Indocumentados --- Thursday, August 2, 2012 from 6:00 PM to 9:00 PM (ET) --- Ecuadorian ...
Seminario de Crísis Económica (2009)
Seminario de Superacion Personal (2008)
Seminario: Tomando Control de Sus Finanzas (2008)
Seminario: Como Optimizar su Computadora (2007)
Seminario de Negocios por Internet (2007)
Resumen del Seminario, Puertas a una Educacion Superior, Becas y Ayuda Financiera (2007)