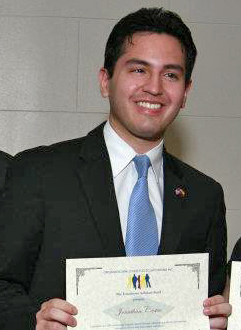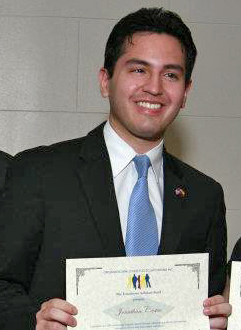 I was extremely honored to be a recipient of the Ecuadorian Scholars Fund Award in 2011. I thank JUVE and all scholarship committee members for their vote of confidence, and support of my education. It is because of organizations like JUVE that I was able to focus on my studies and career goals, and complete my undergraduate degree in May 2012.
Thank you for believing in me and in what I can do. I received my Bachelor of Arts in Political Science & Legal Studies in order to lead a life of service and to pay it forward — to provide others with the support and encouragement that I have been blessed with, and to ensure that the next generation of Ecuadorians is educationally prepared for the challenges of tomorrow.
This summer (my first as a college graduate), I am participating in an all-expenses-paid training at the International Institute of Islamic Thought (IIIT) in Herndon, VA. I am studying the Qur'an and Sunnah, attending intensive seminars on Islamic history and finance, and researching the growth of Islam in Latin America. Upon completion of this program, I hope to use my knowledge and skills to engage the Latino community and interfaith groups in the political process.
Once again, I am truly touched and thankful for the opportunity JUVE bestowed on me. In my studies thus far, I have learned that education is truly a collaborative effort — were it not for the friendship and generous support I received from organizations as education-driven as JUVE, I would have graduated from college with a tremendous amount of debt.