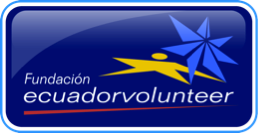 We live in a changing world that every day presents new challenges of transformation due to easy access to information provided to us by technology. This has allowed us a more close, needs, lifestyles, customs, ideals, visions and worldview of people so close to if and remote which makes following years did not even know of its existence. With these information tools to the mankind entered a process of integration and mobility across borders called globalization grows enormously, generating huge profits between countries, but in turn opening large gaps of inequality, injustice and loss of identity in the most vulnerable communities.
For this reason has been strengthened a new global awareness of respect, protection, solidarity, development and cooperation in humans, becoming international exchange managers to take action in pursuit of building a more balanced world.
Thus, in this context Ecuador Volunteer Foundation, has made volunteering becomes a development tool that generates significant impacts on local communities, and that each of the programs that are managed, not only to focus on productivity but in social transformation and citizen participation focusing on:
- Empowerment of projects through the development of intercultural competence.
- Awareness and participation of volunteers with local people.
- The rescue of multicultural identity in two ways
- The development of values such as solidarity, mutual understanding and tolerance among young people.
- Knowledge of new skills
- Intercultural learning and experiential
- The formation of spaces and opportunities to contribute meaningfully to society
- Actions that lead to shared social and environmental responsibility
- The integration of volunteers as part of the community
- Foster the motivation to others
- Creating support networks
Visit their website for more information: http://www.ecuadorvolunteer.org 
Share it now!